Diving with 3W DIVE Gili Air
3W Dive is a small, friendly dive shop run by a management with years of diving experience and a deep understanding of all dive safety and regulatory procedures. Being an SSI school, we offer a unique dive experience tailored to your particular needs with a more personalised approach to courses and guided dives. Whether you're an advanced diver interested in macro photography, a complete beginner dreaming of diving with turtles or a freediver looking for something different, you'll get the exact kind of dive you want.

As sites are so close by with short turn around times, we offer three dives a day: 8.30am, 11.30am and 2.30pm. With limited group bookings of no more than four divers per group and a comfortable, spacious boat, we put pleasure first by offering a first-class dive experience both above and below the surface.

Many guests come for a single dive and end up diving for their entire stay. Our friendly staff and crew and the easy, relaxed pace of the shop become the most memorable part of their holiday.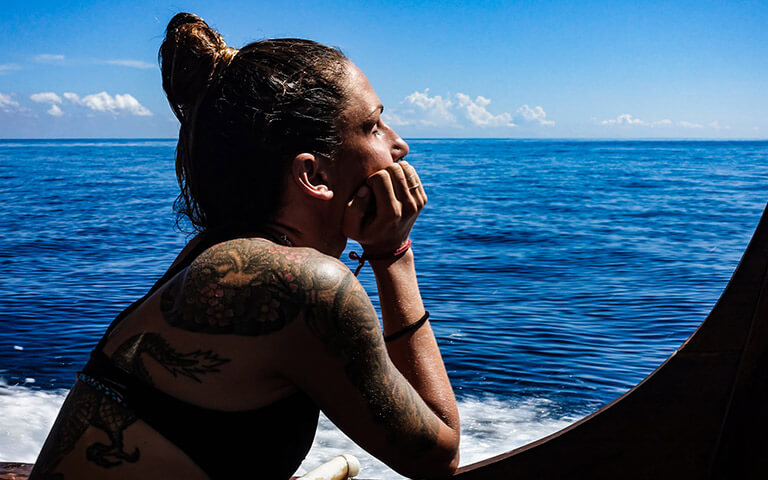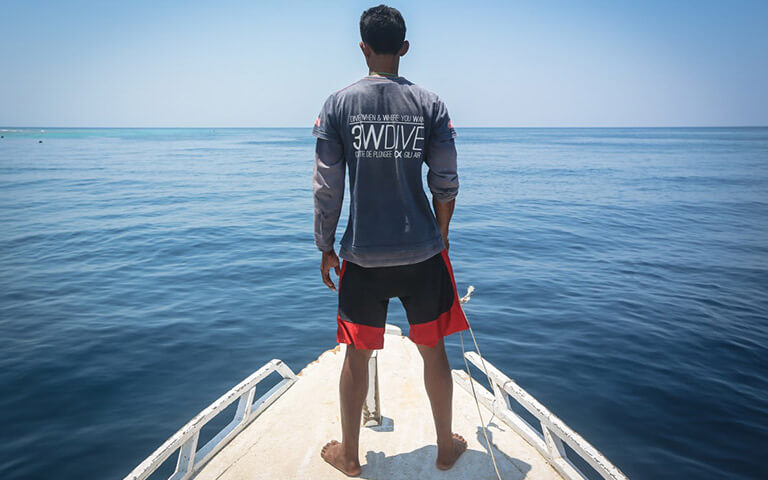 From muck dives in Lombok's black volcanic sands, wrecks guarded by reef sharks, giant pinnacles home to equally giant green turtles, adventure night dives and smooth drift dives where you can cruise across vast reef systems, we'll take you to a range of different sites across all three Gili islands and Lombok.

Diving on the Gili Islands is all about comfort. The water is warm; from 28 – 30 degrees, clear; 15-40 meter visibility and just a short boat ride away; 5-20 minutes so you can plan your diving around your holiday with plenty of stops in between for a smoothie, luxurious lunch or restorative massage.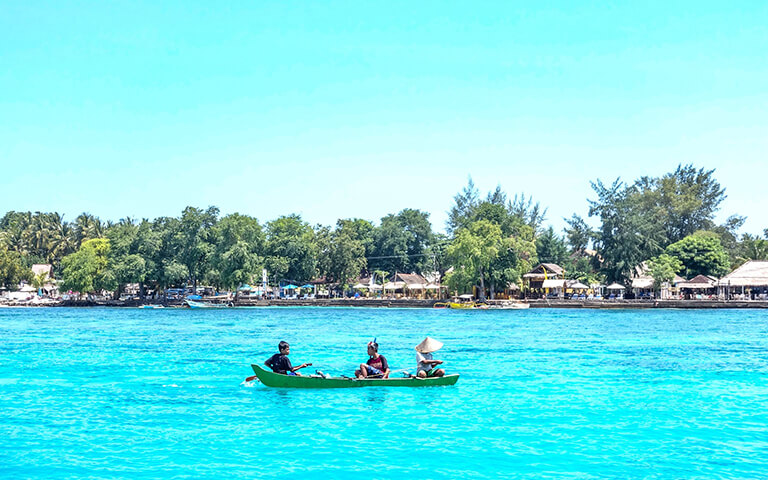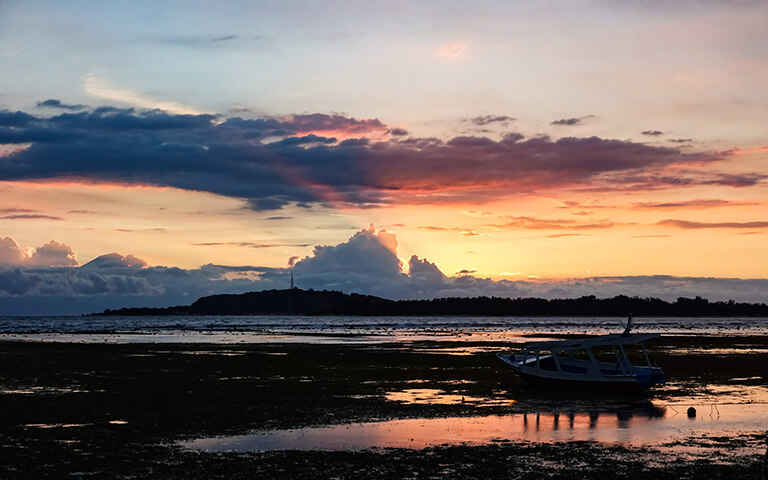 Incredible peace and quiet, turquoise water, sea turtles and nemos at your fingertips, chilled beach bars and breathtaking sunsets. Welcome to the paradise of the Gili islands! This archipelago in the Indian Ocean consists of three islands: Gili Trawangan, Gili Meno and Gili Air, each one attracting different kinds of people. The islands have a deep sense of calm as there are no motor vehicles, and you can only move on foot, with a bike or horse-drawn carriage called a Cidomo.

Imagine an island where time stands still. Where Mondays are a distant memory, and every day is spent soaked in sunlight, surrounded by crystal clear water, sitting on sand that sparkles like diamonds; a place where kids can roam free and play, far from iPads or computer screens; a place where days aren't planned around deadlines or meetings, but sunsets; a place where you'll watch, cocktail in hand, as the world around you melts away into a pink and purple dreamlike haze.

This is a place where a daily massage is as common as a morning illy espresso – both enjoyed over ocean views. Where waiters with infectious smiles serve you under soft candlelight, all to the amazement of your other half. Enjoy decadent delicacies from fresh local seafood, vegan-friendly curries to rich French cuisine.
Beneath the surface, a similar magic can be found. The island's calm, clear waters can be likened to a giant, turquoise aquarium. Swim past sleeping green turtles, around schools of devil rays and through every kind of tropical fish you can imagine – all this wonder just a short boat ride away so you'll be home in time for a long lunch with the family or an afternoon yoga class with your partner.

This is our island home, Gili Air; a wondrous piece of tropical heaven with so much more to offer than just diving.
Après 5 ans sans plonger j'ai retenté l'expérience. Une super organisation un super staff, un super matos. Sébastien mon instructeur à été au top. Très rassurant et un oeil très… read more affûté pour trouver les petites merveilles cachées. Le bateau est très agréable et les paysages alentours magnifiques. Allez y en toute confiance. Vivement la prochaine plongée.

anthonymI8087ZS


1/11/2020

Nous avons eu la chance de tomber sur cette école par hasard et encore plus sur Camille qui nous aura accompagné toute la demi journée et mis en confiance.
Elle… read more est à l'écoute et vous met rapidement alaise avec une dose d'humour qui est très agréable.
Le site de plongée où nous sommes allés et absolument incroyable en thermes de poissons on en voit de toutes les couleurs sans compter les tortues.
Je recommande fortement cette école et surtout Camille qui est très sympathique.

l_onf2018


2/07/2020

Nous connaissions GiliAir pour y avoir passé un sejour magnifique il y a 3 ans. Fans de snorkeling, nous nous sommes décidés à effectuer notre baptême de plongée sur cette… read more île paradisiaque. Le boss de notre villa nous a conseillé 3W Dive pour notre baptême.
Nous avons été accueilli par Sébastien qui nous a expliqué, rassuré et concaincu de nous lancer. Nous avons donc effectué notre baptême dans les meilleures conditions possibles et sur un très beau spot. De retour sur terre, nous avons voulu continuer pour effectuer notre Open Water.
C'est Max qui nous a formé pour cette certification. Exercices en piscine, en mer et découverte des fonds marins des Gilis. Ces 2 jours furent fantastiques.
Un grand, un énorme merci à Max pour sa gentillesse, sa patience et sa pédagogie, son professionnalisme pour m'avoir guidé, rassuré pour franchir ma plus grande peur sous l'eau, et tout ça dans la bonne humeur.

3W Dive est un centre très professionnel, sécurisant avec une ambiance très chaleureuse où l'on se sent bien.

Encore merci à Max pour ces 2 jours qui ont changé ma vie de plongeuse

954leg


3/10/2020

J'ai passé chez 3W dive mes qualif Deep et Nitrox. C'est le top! Instructeurs hyper pro, matériel irréprochable le tout dans une atmosphère très décontractée. A noter également que l'on… read more est toujours aux petits soins avec vous. Avis aux flemmards, on ne porte jamais rien chez 3W Dive, votre équipement est embarqué et débarqué du bateau pour vous. C'est presque too much.
Le petit plus fondamental, (Merci Camille): dès votre arrivée on vous indique tous les bons plans: les bons restaurants, les bons hôtels, les bons salons de massages, les bons bars, le bon bureau de change etc… Tout est fait fait pour vous rendre le séjour agréable et vous éviter les plans galères et les mauvaises surprises.
Allez y les yeux fermés!
NB: J'ai eu vent du fait que certains trouvaient les prix pratiqués par 3W Dive un peu élevés. D'abord, si c'est le cas ce ne serait, pour le prix d'une plongée que de l'ordre de 2 ou 3€, soit vraiment que dalle, ensuite la qualité, la sécurité et le sérieux se paient et à ce prix, moi je n'hésite pas une seconde.
Olivier

Régnier O


2/14/2020

Nous sommes venus pour un baptême de plongée et nous n'avons pas été déçus. De l'accueil jusque à la plongée tout a été fait pour que cela se passe bien.… read more Encore merci à Morgane et Seb de nous avoir accompagné et mis à l'aise dans ce nouvel environnement !

Lestorcat


3/05/2020

J'ai d'abord fait une première plongée pour essayer et j'ai décidé dans la foulée de passer mon open water.
Merci à Camille et à Max pour leur sympathie et leur… read more pédagogie, c'était parfait. Le matériel est en parfait état pour des plongées en toute sécurité.
Si vous hésitez, allez chez 3w dive, ils sont très pro et l'ambiance est très conviviale
Aurélie

Relax757595


2/20/2020

Un super centre de plongée à Gili air. Super bien accueilli par Sébastien avec pleins de super infos sur les plongées… Gili… bref top. Susan, notre guide, est très… read more professionnelle, fait attention à tous les petits détails et très attentionnée. Nous avons passé de superbes plongées en sa compagnie merci pour tout!!

142margauxb


1/22/2020

J'ai passé ma formation open water et advance deep avec Camille et c'était super bien. J'ai découvert une nouvelle passion grâce à Camille qui est très pro et qui est… read more vraiment passionné par son métier.
L'ensemble de l'équipe et également très agréable et accueillante !

380kreshnikb


1/27/2020

Poissons, tortues et un baby requins baleine au programme oui oui oui !!! 😀 sur le site Turtle Heaven c'était incroyable !
Nous avons fait notre baptème de plongée… read more en anglais avec Carlos, tout à été parfait. Très professionnel et pédagogue, nous étions un petit groupe de 4 avec le moniteur ce qui est vraiment top pour vraiment apprécier la plongée. L'équipe du centre est très sympathique, les français nous ont donnés plein de conseils de resto/bar avec une carte de l'ile! Nous recommandons ce centre à 1000%, on espère revenir un jour et passer notre Open Water 😉

famontel


2/20/2020